The Exciter Boats product line consists of custom offshore style v-bottom boats available in 14-foot and 24-foot open bow and closed deck versions. We also offer a 21-foot inboard limited hydroplane and APBA approved safety cells to retrofit inboard hydroplanes built by others.
Our boats are built to order to meet our customer's requirements using state of the art composite materials. The standard e-glass fiberglass layup schedule provides a more than adequate level of durability. However, we also offer s-glass, Kevlar and carbon fiber materials for an over-all increase in performance. It's all about power to weight ratios and how light is right.
Look around our website and discover what we have to offer.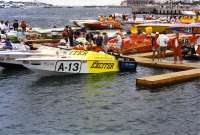 Team Exciter at the Worlds in Key West, FL